Gift-giving is a cherished tradition that beautifully complements the celebration of love and commitment on your wedding day. It's an opportunity to express your appreciation to those who have stood by your side through the journey, offering their support and love. The right wedding gifts have the power to convey your heartfelt gratitude and leave a lasting impression on your loved ones. In this guide, we invite you to explore the world of exquisite Crystal Plus presents, designed to add a touch of elegance and sparkle to your special day. Whether you're searching for gifts for the bride, groom, bridesmaids, or groomsmen, we've curated a collection of dazzling options that will truly shine in the memories of your loved ones.
Happily Ever After: Gifts for the Newlyweds
In this section, we invite you to explore a world of thoughtful and heartfelt gifts designed to celebrate the newlyweds as they embark on this beautiful adventure together. Whether you're a guest looking to express your best wishes or a couple seeking the perfect gift for each other, our curated selection of presents captures the essence of love, commitment, and the joy of starting a life together. From Monogrammed whiskey decanter sets like the Monogram Wedding JoyJolt Aurora Whiskey Crystal Decanter 5pc Set (SKU 181300W1, Pictured Left) to beautiful vases for their home Pre-Designed Botanical Monogram Orrefors Precious Vase (SKU 220452W1, Pictured in the Middle) and stunning Champaign toast glass Pre-Designed Waterford Elegance Champagne Classic Flute Pair (SKU 211165W1, Pictured Right). Because in the exchange of these gifts, we find the promise of a love that will continue to grow, enrich, and flourish with each passing day.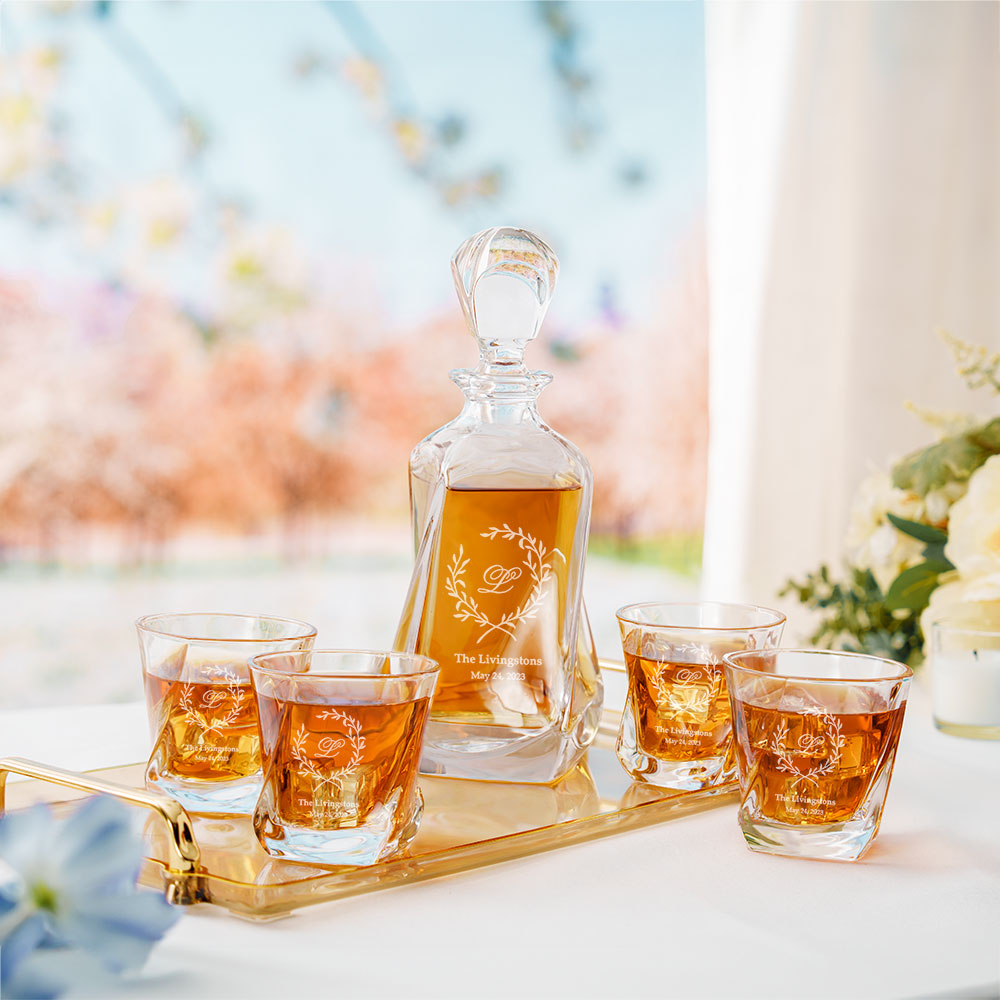 Show Love To Your Bride Tribe

Explore a curated collection of wedding gifts that are as unique and extraordinary as the friendships they represent. This section is dedicated to celebrating the irreplaceable bond you share with your bridesmaids. From personalized crystal keepsakes like our Pre-Designed Waterford Couple Wedding Ring Holder (SKU 210320W1, Pictured Left) and Pre-Designed Majestic Crystal Box (SKU 110290W1, Pictured Right) to elegant wine stoppers like our Pre-Designed Bride Tribe Heart Shape Wine Stopper (SKU 101930W1, Pictured in the Middle). We've assembled a treasure trove of ideas that will make your bridesmaids feel adored and cherished.
Unique Groomsman Gift Ideas

This section is dedicated to celebrating the camaraderie and friendship that your groomsmen bring to your wedding journey. Your groomsmen have been your partners in laughter, your confidants in adventure, and your support through thick and thin. In this section, you'll explore a selection of exceptional and thoughtful groomsman gift ideas. From our pre-designed Black/Silver Leatherette Bottle Opener with Magnet (SKU 410135W1, Pictured Left) to our elegant Pre-Designed On The Rocks Cylinder Glass (SKU 181290W1, Pictured in the Middle) and stylish accessories such as our Pre-Designed Groomsman Blue Leatherette Luggage Tag (SKU 410012W1,Pictured Right). We've handpicked a range of gifts that will show your appreciation and gratitude.
In the enchanting world of weddings, the exchange of gifts is a poignant tradition, an art form that expresses love, appreciation, and the promise of a bright future. Whether you're honoring your bride tribe, celebrating the happy couple, or seeking the perfect gift for the newlyweds, our curated sections have provided a wealth of inspiration that embody the essence of love and commitment. It's in these gifts that we encapsulate the shared laughter, tears, and dreams of a lifetime together. As you embark on your wedding journey or join in the celebration of others' love stories, may these gifts symbolize the enduring bonds, cherished moments, and the remarkable journey that is marriage.