Get ready for the most wonderful time of the year with the most wonderful gifts you can give! Nothing says "special" like something made just for you—and now, you can create something special for all your loved ones too.
To help, we've gathered a list of all our favorite things to help your gift-giving experience easier! With our free, high-quality engraving services, you can add unique touches to a wide selection of gifts, including drinkware, décor pieces, photo gifts, commemorative keepsakes, ornaments, and so much more.
Each gift can be personalized with customized artwork and text, which may include their name or monogram initials, a meaningful date, or a sweet message or quote to express your love, gratitude, and appreciation.
So whether you are shopping for your parents, your partner, your best friends, your office, or your party hosts this holiday, you will be sure to find something amazing for everyone!
---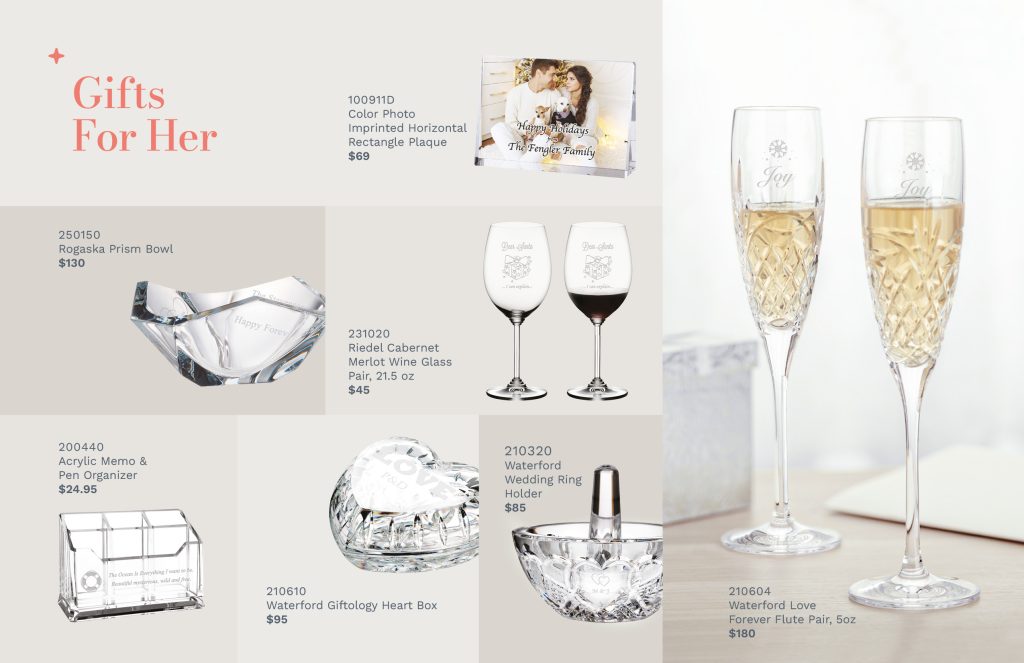 Gifts For Her
Show your love for all the women in your life by gifting her something she'll treasure forever.
Toast to many more years to come with some beautiful monogrammed Waterford champagne glasses, or add some sparkle to her dresser with crystal keepsake boxes and ring holders to display all her trinkets and jewelry. Engrave a sentimental message or quote onto an elegant vase or bowl, and fill with fresh flowers for a lovely home accent or decorative centerpiece!
https://www.crystalplus.com/keepsake-gifts-for-her_712.html
---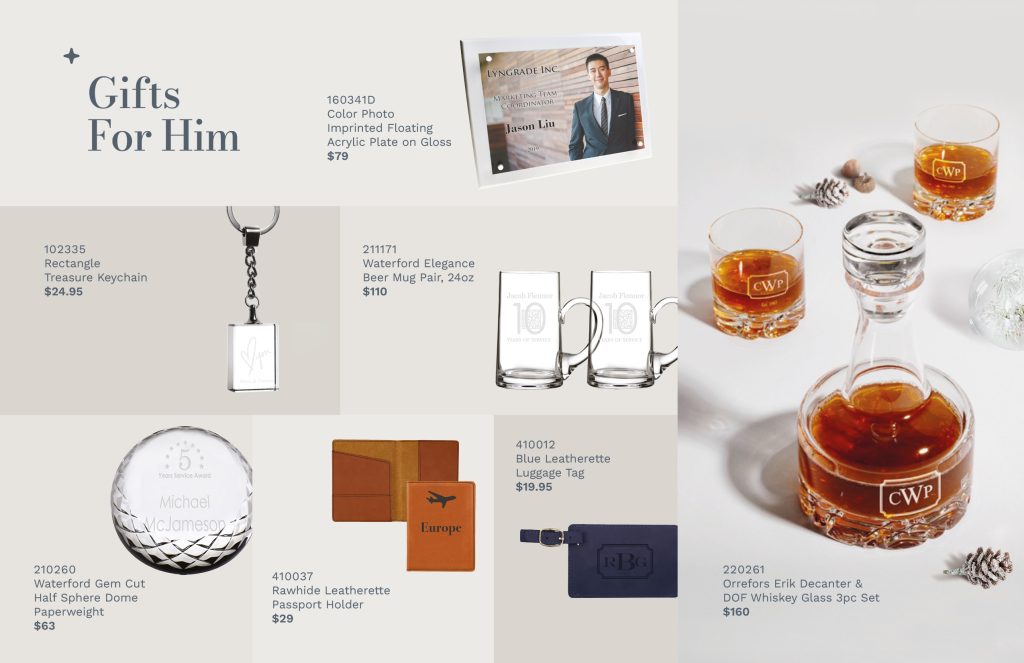 Gifts For Him
Finding the perfect gift for the men in your life can be complicated, especially for the ones who seem like they already have everything—but now, you can take your gift to the next level by personalizing our finest selection of gifts for him!
For the beer lovers and liquor connoisseurs, add a monogram or unique design to some beer glasses or a decanter set to create an elevated drinking experience. Engrave some their name, a quote, or some coordinates on some leather travel accessories to remind the constant traveler of home. And finally, customize some photo frames or other desk accessories to add a little spice to his office décor.
https://www.crystalplus.com/keepsake-gifts-for-him_713.html
---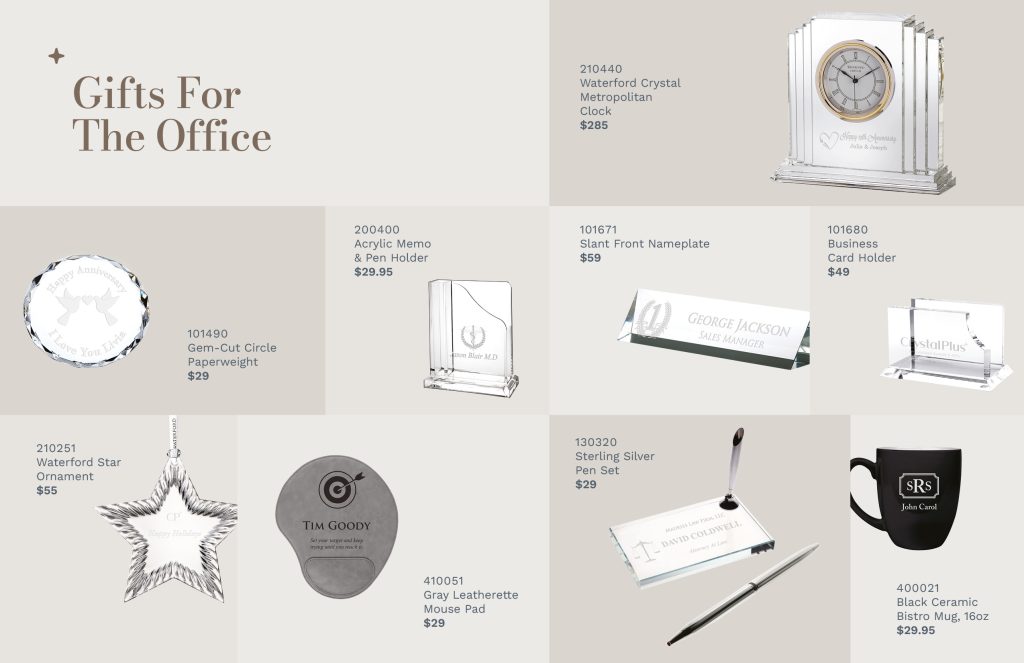 Gifts For The Office
Have a company holiday party coming up? Want to show some appreciation for your amazing boss or coworker? We've got you covered! Select from our crystal desk accessories, like tabletop clocks, nameplates, pen holders, and photo frames, for the perfect addition to their workspace or office.
https://www.crystalplus.com/retirement-desk-accessories_866.html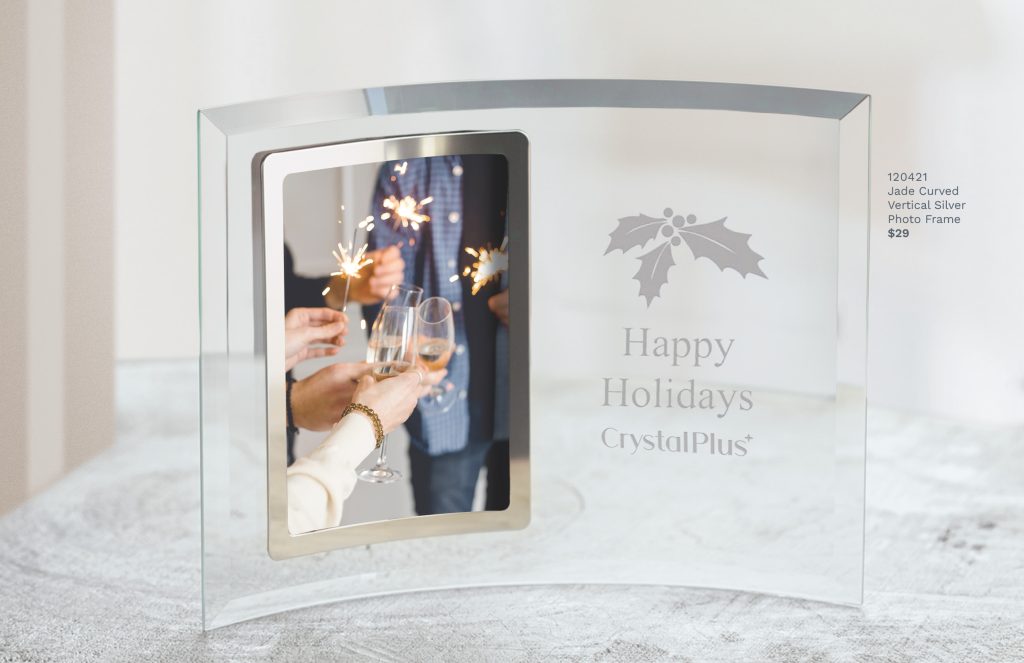 ---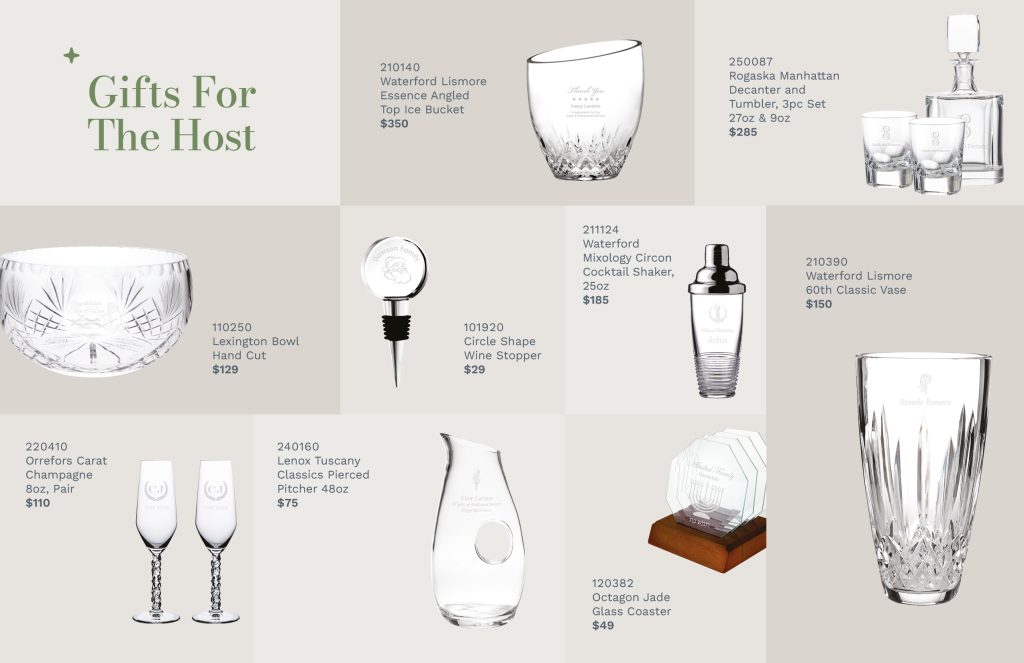 Gifts For The Host
This holiday, don't show up a party empty-handed—thank your host with a gift they'll always remember! Present barware accessories, like a decanter set, cocktail shaker, or carafe, to help make their hosting duties more fun. There's nothing like good food, good company, and a great gift to get us into the holiday spirit!
https://www.crystalplus.com/glass-holiday-drinkware_711.html