Spring is here once again, and it's time to refresh your home for the season with brand new personalized home décor and drinkware! From vases and bowls to stemware and barware, there are so many ways for you to add a personal touch to these crystal treasures and transform your space into one that is uniquely yours.
---
Vases
Welcome a bit of the lovely spring sunshine into your home when you display your favorite blooms in one of our crystal vases. Crystal Plus offers two different types of vases, so it's important to distinguish between them when browsing our collection!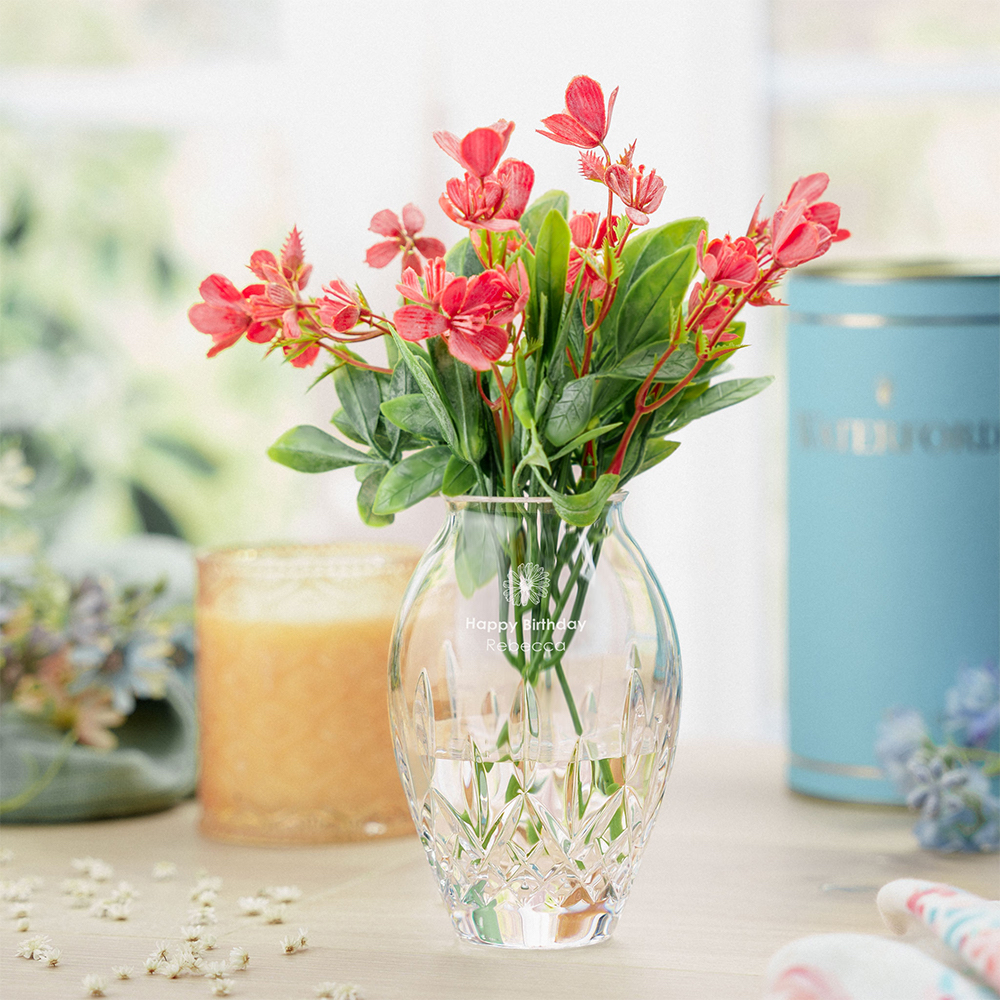 Bud vases, like the Waterford Giftology Lismore Candy Bud Vase (SKU 210370) on the left, are smaller than your average vase and intended for small flowers like rosebuds clippings, sprays of baby's breath, or any mini bouquets of wildflowers you gather on your walks. Moreorever, they make great gifts for those who live in cozier spaces, such as apartments or cottages, or for minimalists who prefer something simple and sweet. Because of their small size and etch area, we would recommend minimal engraving on these vases – a simple motif and a name, or a short and sweet quote.
Crystal Plus also offers regular vases as well, such as the Vista Alegre Hana Bud Vase (SKU 270060). While its name indicates that it is intended to display singular blooms (like bud vases, shown in the photo on the right), this vase is closer in size to our bigger vase offerings. These vases are ideal for displaying bigger bouquets from the flower markets in your living spaces, or creating beautiful centerpieces for your spring picnics, parties, and so much more! With a larger etch area on most of our vases, you may engrave with longer messages or more detailed designs for the personalization of your dreams.
---
Bowls
Thanks to their versatile uses and functional designs, Crystal Plus bowls are most popular this time of year! Display your favorite fruit, such as lemons, apples, oranges, and more in something like the Papaya Bowl (SKU 180830, pictured right)on your dining or kitchen tables to create a lovely centerpiece. Add a quote that makes you smile and a design of your favorite flower or fruit for a fun creation you'll be excited to bring out every spring.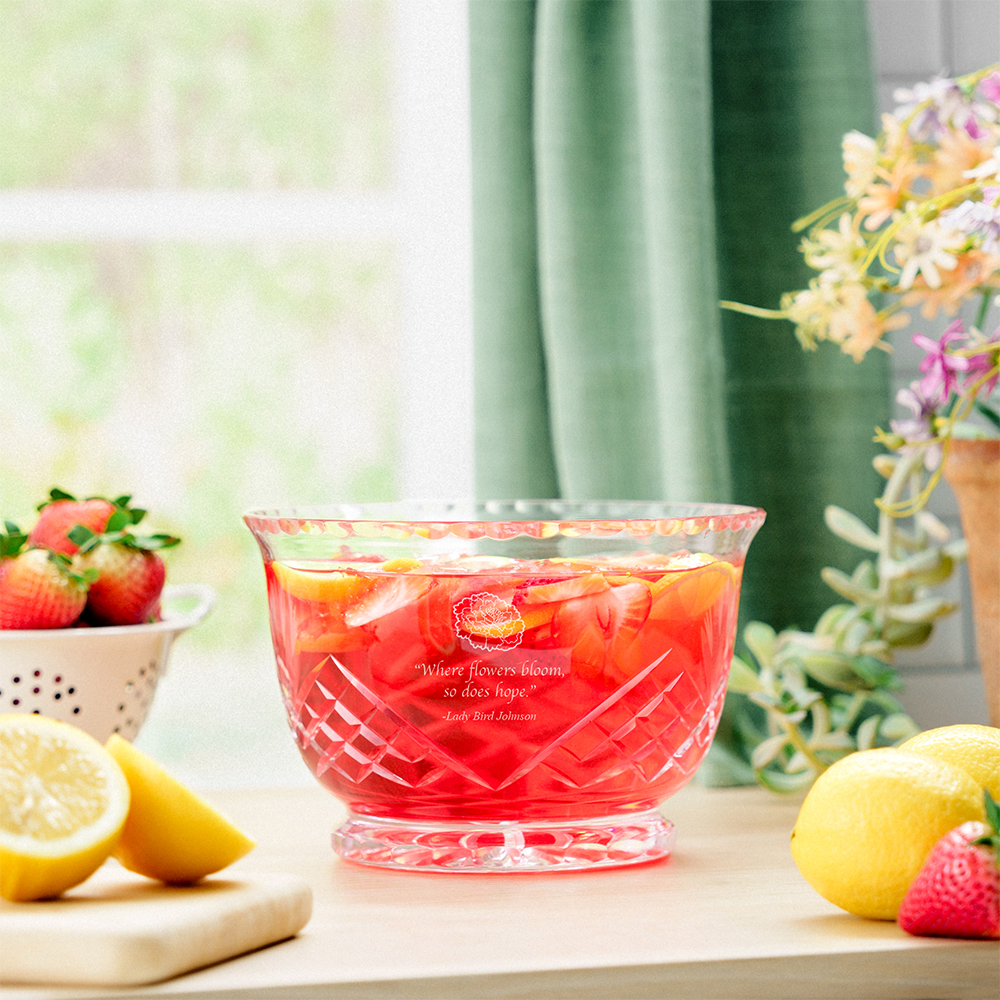 For those who love hosting, you can also get creative and use our bowls to decorate your grazing tables or wine and cheese spreads! Simply slice up some fruit and toss into our Revere Bowl (SKU 110310, pictured left) with two (or three) bottles of wine, prosecco, juice, and even edible flowers for a springtime sangria that will be the talk of your garden party. If you're on the guest list instead, our bowls also make great gifts to bring for the hosts, especially with a personalization they'll love.
---
Drinkware
We can't forget drinkware! Whether you're opting for stemware or barware, there are so many ways to be creative with these glasses. Toast to new beginnings with mimosas in the Vista Alegre Splendour Flute Pair (SKU 270101, pictured left), or enjoy a mocktail (or cocktail) in the fancy Orrefors Sofiero Double Old Fashion Pair (SKU 220441, pictured right). Dress up your creations with sliced fruit and garnishes for an Instagram-worthy photo-op!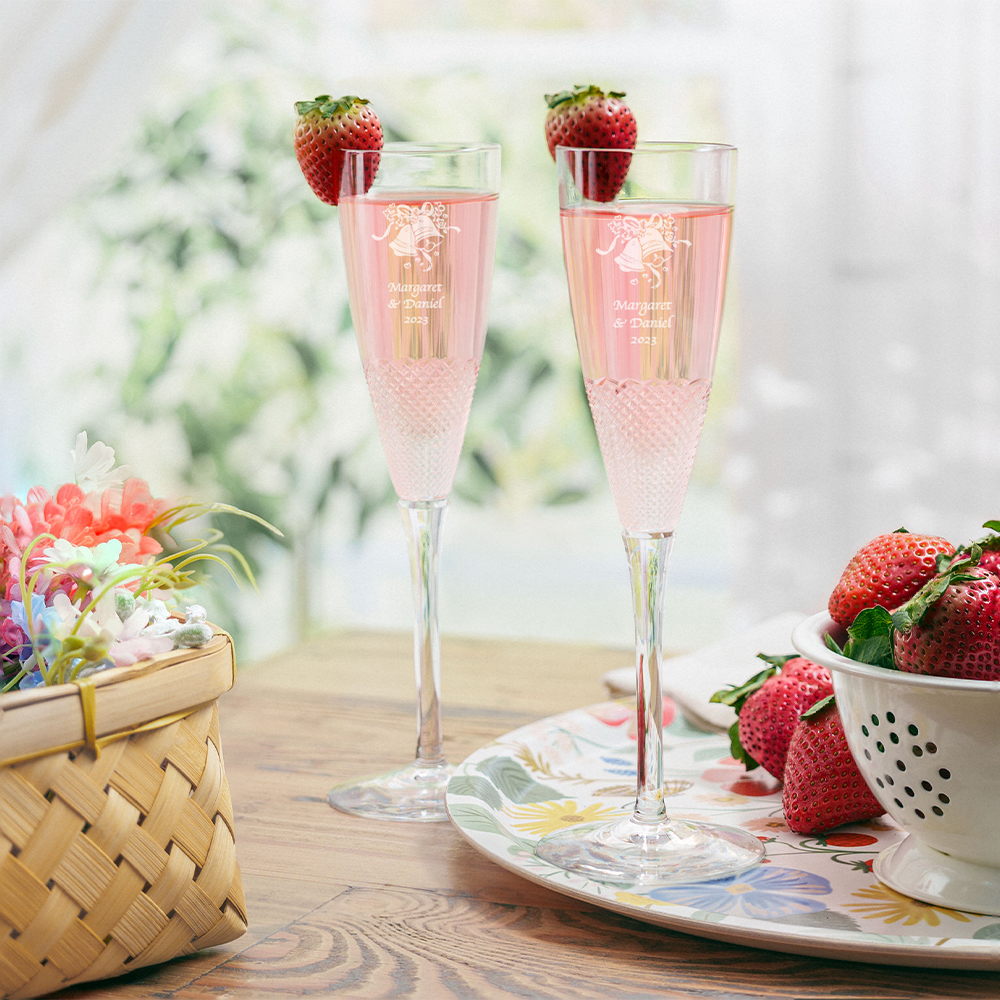 These glassware also make fantastic gifts for any special occasion coming up! Whether you're celebrating a springtime birthday, anticipating a graduation, shopping for Mother's Day, or more, you only need to browse our extensive collection of glassware designs to find something they (or you) will love. Engrave your chosen pieces with names, dates, the occasion, and a message of love for a unique, thoughtful gift they'll use time and time again.
---
Happy Spring, everyone!